Kent hospital trust fined over mixed-sex wards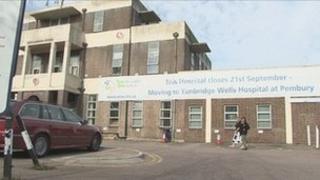 A hospital trust has been fined almost £50,000 for nearly 200 breaches of the rules over mixed-sex hospital wards.
The Maidstone and Tunbridge Wells Trust was fined £250 for each of the 190 occasions when the rules were broken in September.
The Kent trust blamed the reduction in overall bed spaces at the Kent and Sussex Hospital ahead of it completing a move to a new hospital at Pembury.
In September there were 133 mixed-sex rules breaches at the old hospital.
A spokesman for the trust said: "Since the full opening of the Tunbridge Wells Hospital we have had no mixed sex breaches there; all in-patients staying overnight are in their own single, en suite rooms.
"Maidstone is now seeing significant improvements on breaches, owing to the reconfiguration of services following Tunbridge Wells Hospital's opening."
The Kent and Sussex Hospital in Tunbridge Wells closed on 21 September.
The new £230m Tunbridge Wells Hospital in Pembury started treating its first patients in January.
The old Kent and Sussex Hospital site has been earmarked for housing and will be sold to a developer, with the funds used to buy medical equipment for the new hospital, the NHS trust said.