Row over lack of disabled access on Bearsted station bridge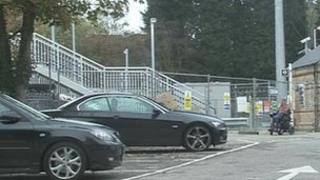 A campaign has been launched after a new bridge at a Kent railway station does not cater for wheelchair users.
Network Rail said there were too few users of the new bridge at Bearsted station to justify the extra cost.
However, it means disabled passengers who need to cross the track must travel to Hollingbourne or Ashford stations.
Wheelchair user Vicci Chittenden said it is this kind of lack of access that "makes a person with an impairment disabled".
Network Rail had to apply to the government for dispensation not to build lifts or ramps on the new bridge.
The firm argued not enough people used the station to justify the cost and said the bridge had been designed in such a way that lifts could be added if required.
Neil Coyle, of Disability Alliance, said: "To do one bit and then come back for the accessibility requirements makes no economic sense."
An online petition has been launched, with campaigners saying the lift is also difficult for those with pushchairs and heavy luggage to use.