Dover jobs 'at risk' if SeaFrance is not saved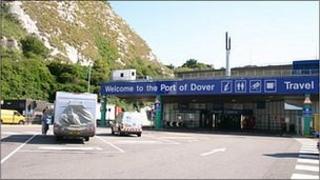 Hundreds of jobs could be at risk in Dover if a French ferry company is not saved, the town's MP has warned.
Charlie Elphicke, Conservative MP for Deal and Dover, said 200 jobs could be lost if SeaFrance folded.
His comments came after the European Commission rejected a rescue plan for the firm, ruling that a €200m (£176m) bailout was illegal.
Mr Elphicke said it was important for local jobs and competition in the port that the company was saved.
The European Commission said the rescue plan by French railway operator SNCF breached state aid rules.
Mr Elphicke suggested a takeover by DFDS Seaways, which operates the Norfolkline ferries out of Dover, would help secure jobs in the port.
An alternative would be "a co-operative type takeover", he said.
SeaFrance has four ferries sailing between Dover and Calais carrying more than 3.5m passengers each year.