Plans for Manston Airport night flights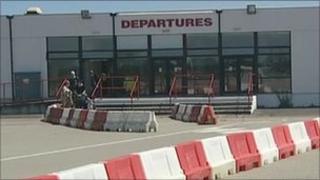 A Kent airport is asking for permission to operate night flights.
Manston Airport wants Thanet District Council to allow an average of eight take-offs or landings per night.
The move would allow the operation to attract new airlines and a study suggested it could create more than 3,000 jobs.
But opponents fear it could pave the way for 24-hour arrivals and departures.
The proposal is for three flights between 23:00 and 23:30, two flights between 23:30 and 06:00 and three between 06:00 and 07:00.
Charles Buchanan, from Manston Airport, said: "It is vital to have a limited amount [of night flights], in a managed way, with the consent of the community around us.
"What we need is to be able to attract airlines here.
"If we can't operate the hours that other airports can operate, then those airlines will choose to operate elsewhere."
Campaigners have claimed the move would allow 24-hour arrivals and departures.
The online petition said: "The noise from any flights in the eight hours between 11pm and 7am is far more intrusive and disruptive than at any other time of day.
"Night flights would reduce the quality of life for everyone within earshot of the flight path."