Archbishop backs Kent youth centre campaigners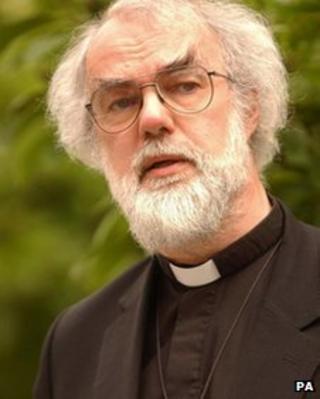 The Archbishop of Canterbury has given his support to a campaign fighting proposed cuts to Kent youth services.
In a letter to campaigners, Dr Rowan Williams said youth services were crucial given the strains young people faced at the moment.
Under the plans, Kent County Council (KCC) would close some youth centres and commission services from local groups in a bid to save nearly £1m.
KCC has said a "first-class service" would still be provided.
A three-month consultation on the council's plans ends on Saturday.
If they go ahead, spending on youth services would be cut by £1.7m, and spending on commissioning local youth work would increase by about £800,000.
Savings would be found by closing 24 youth clubs and street-based projects.
The council would also cut the equivalent of about 64.5 full-time posts from the current total of about 230 posts.
Campaigners wrote to Dr Williams, asking him to sign a petition supporting Aylesham Youth Centre, near Dover, which would no longer by used by Kent Youth Service.
He replied that he did not sign petitions, but wished the campaigners "every success" in resisting the closure.
"It is so crucial to reserve decent youth services at the moment given the strains young people face," he said.
"I'm happy to express my support and I know that others, including my chaplain in Canterbury, are exploring what more might be done to support your community."
Councillor Mike Hill said KCC had been talking to the public, district and borough councils and voluntary organisations as part of the consultation.
"We will look at all the comments with a view to presenting the results to the cabinet for consideration," he said.