Spitfire helipad plan angers Capel le Ferne residents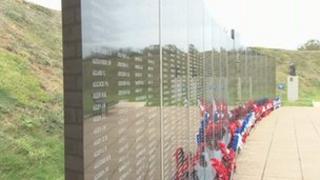 People living near a Battle of Britain memorial in Kent are angry about plans to build a helipad nearby.
The helipad, next to the National Memorial to The Few at Capel le Ferne, would be used by helicopters flying customers alongside a Spitfire.
The helicopters currently take off and land from farmland but the number of flights will be increased if the helipad is given planning permission.
The Battle of Britain Memorial Trust said it was working to find a solution.
The "Fly with a Fighter" experience, operated by a private company, offers customers the chance to fly alongside a Spitfire or Hurricane, the aircraft which flew in the Battle of Britain.
A planning application being considered by Shepway District Council says the operators want to add seven more flying days to the current 20 per year.
The helipad would be on the site of a former WWII coastal gun battery.
The memorial, which honours the 2,927 pilots who flew in the Battle of Britain, was unveiled in 2005.
Aviation fuel
Capel le Ferne resident Jayne Stone said villagers had no advance warning of the helicopter flights.
"They came literally out of the blue and we just had helicopters landing and taking off at the bottom of the garden," she said.
"There was a bowser of aviation fuel which scared the living daylights out of us all.
"When you have a start like that you kind of are unsettled and don't know what is coming next."
The memorial trust said it accepted there had been problems.
"We value the views of the local villagers and we are working with them," said spokesman Malcolm Triggs.
"We are upset any time they are upset and we are working very hard to resolve this situation.
"It is only a few weekends a year and only a few helicopter movements."
Shepway District Council said in a statement: "We are currently liaising with the applicant over certain issues that need clarification before a decision is made.
"A decision looks some way off at this stage."