Europe rebel MP Adam Holloway quits as ministerial aide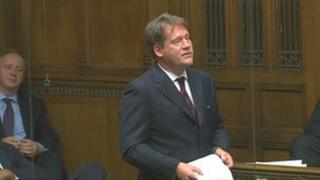 A Kent MP has quit as a ministerial aide and voted for a referendum on EU membership because he said he did not want to "go back on my word" to voters.
Gravesham MP Adam Holloway ignored Prime Minister David Cameron's instructions by voting in favour of the motion in the House of Commons.
The Conservative resigned as personal private secretary to Europe Minister David Lidington ahead of the vote.
He told fellow MPs he wanted more decisions to be made in the UK.
Speaking during the Commons debate on Monday night, he said: "I want decisions to be made more closely by the people they affect, by local communities.
"I'm not now prepared to go back on my word to my constituents.
"If you can't support a particular policy then the honest course of action is of course to stand down."
'Reduced vote'
The motion calling on a referendum on EU membership was defeated by 483 votes to 111 after all Conservative, Liberal Democrat and Labour MPs having been instructed by their parties to oppose it.
In total 70 Conservative MPs voted for the motion.
The five-hour Commons debate on the issue was prompted after a petition was signed by more than 100,000 people.
It called for a referendum on whether the UK should stay in the EU, leave it or renegotiate its membership.
Nigel Farage, leader of UKIP said: "It can be no coincidence that he [Mr Holloway] chose this course of action given that only earlier this month in the ward of Meopham in his constituency, UKIP achieved 34% in a by-election.
"We came second only to the Conservatives in this ward where we had never stood before and seriously reduced their vote.
"Adam is rightly acknowledging the Euroscpetic feeling in his constituency."