Parliament to debate live exports from Ramsgate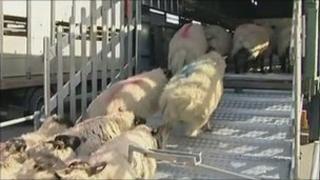 Exports of live animals through the Kent port of Ramsgate are to be debated in the House of Commons.
Laura Sandys, Conservative MP for the town, will urge the government to do all it can to stop exports from the port.
She said: "The coalition is finding it impossible to unilaterally prevent what, at present, is a legal trade."
The National Farmers' Union has said the shipments are subject to strict controls.
Ms Sandys said that a new labelling system which will ban producers from labelling the country of origin as the place of slaughter could "kill off the trade".
If an animal is raised in the UK this must now be declared, she said.
"It could make people think twice about purchasing exported meat."
She said: "Live exports are a thing of the past. Exporting them on long, cramped journeys is barbaric and totally unnecessary."
In July the hung Thanet District Council sought legal advice on whether it could lawfully ban the shipments, but was told it could not as Ramsgate was an "open port".
The council voted to officially support the campaign to ban live exports from Ramsgate earlier this month, and backed a motion to encourage people to sign an e-petition calling for a government ban.