Maidstone veterans mark Malayan anniversary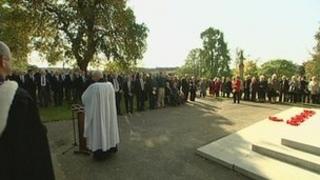 More than 100 veterans have gathered in a Kent town to commemorate a terrorist ambush in Asia 60 years ago.
The attack on the Queen's Own Royal West Kent Regiment on 22 October 1951 was the largest loss of life from a British platoon since World War II.
Fifteen soldiers were killed in the ambush during the conflict with communist guerrillas in Malaya - now known as Malaysia.
Veterans met in Maidstone to walk to Brenchley Gardens war memorial.
Rubber estate
The so-called Malayan Emergency was a communist-inspired revolt against the British authorities which lasted until the late 1950s.
The 1st Battalion The Queen's Own Royal West Kent Regiment was deployed to Malaya in March 1951.
The soldiers were ambushed on the Ulu Caledonian rubber estate on their way back from a patrol.
Maidstone has been the base for the regiment since the 19th Century.