Protest staged over live animal exports from Ramsgate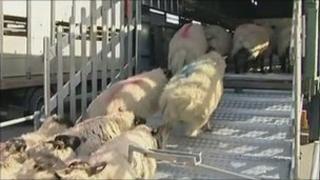 Protesters have demonstrated outside a council headquarters over live animal exports from Ramsgate.
Thanet District Council is discussing whether to encourage people to sign a government e-petition calling for a ban on shipments.
The authority has previously objected on "moral grounds" but because Ramsgate is an "open port" it has no powers to ban the trade.
The National Farmers' Union (NFU) said the trade was not morally wrong.
'Packed like sardines'
The NFU's chief dairy advisor Robert Newbery said: "There is nothing illegal or inherently wrong about moving animals from one part of Europe to another, provided they are well-cared for both in transit and in rearing."
Councillor Ian Driver, who has led the campaign against the live shipments, said: "It's horrendous - the animals are packed in like sardines."
If successful, Mr Driver believes it will be the first time a local authority has given official backing to a government e-petition.
Britain started exporting live calves to the continent for veal and beef again in 2006, after the lifting of a decade-long EU ban imposed to prevent the spread of BSE.