Dungeness prepares for return of short-haired bumblebee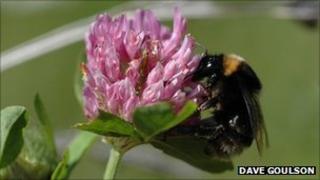 Nectar-rich wild flowers are being planted on the south Kent coast to prepare for the return of a bumblebee which once thrived there.
According to the RSPB, the short-haired bumblebee disappeared from Britain more than 20 years ago.
It was last recorded at Dungeness in Kent in 1988.
Now preparations have been made at the RSPB's Dungeness reserve and farmland across Romney Marsh to create the ideal conditions for the bees to flourish.
After initial attempts to bring bees back from New Zealand proved unsuccessful, conservationists looked to Sweden to provide healthy queen bees, which have now been brought back to the UK for disease screening.
Providing there are no problems with the screening, the reintroductions should be able to go ahead early next year.
'Haven for bees'
Bumblebee expert Dr Nikki Gammans said: "To create the right conditions for the short-haired bumblebees return we have been working with farmers to encourage the pollen and nectar rich wild flowers that bumblebees rely on.
"It has been amazing to see the effect it has had on other species. England's rarest bumblebee, the shrill carder bee, has returned to the Dungeness RSPB reserve after a 25-year absence and the large garden bumblebee has come back after 10 years.
"This area has become a haven for bees and when we finally release the short-haired bumblebee we will be completing the picture."
Dr Gammans will travel to Sweden in spring next year with a group of volunteers to capture a minimum of 30 queens which will then be brought to the UK, kept in quarantine for two weeks to ensure they are virus-free before being released at RSPB's Dungeness reserve.