Male primary teacher 'positive discrimination needed'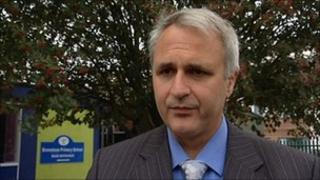 A Kent head teacher has called for positive discrimination to be introduced to increase the number of male teachers at primary schools.
Only about 14% of teachers in Kent primary schools are male.
Nigel Utton, of Kent Primary Head Teachers Executive, said positive discrimination was the only way to achieve a 50-50 gender balance.
Kent County Council's Mike Whiting said schools needed to be able to chose the best candidate regardless of sex.
Mr Utton, who is also head teacher of Bromstone Primary School, said: "I think positive discrimination has got a bad press.
"I actually approve of it and I think it can be very helpful in lots of different ways to get a balance in all sorts of areas.
"We need a 50-50 balance in primary schools. We will only get that if Kent County Council and other national bodies show that men can do this job.
"It's a wonderful career for man to have."
'Best teachers'
Mr Whiting said: "I think getting a better gender balance in schools is a good idea.
"I think it allows all of the school children to perhaps relate more closely with teachers than just having an over balance of one gender or another."
But he added: "Schools have to have the freedom to employ the best teachers.
"I think what we can do as a county council is encourage more people to go into teacher training and to come out of teacher training in Kent and make themselves available at interview.
"Children only have one shot at education, I would prefer those children to have the best available teachers regardless of gender."