Pacemaker error sparks call for hospital trust apology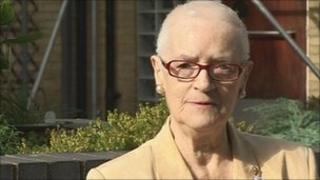 A 78-year-old woman has demanded an apology from an NHS trust after her pacemaker was fitted incorrectly.
Yvonne Vinall, of Tunbridge Wells, had the device implanted during an operation at the Kent and Sussex Hospital in August.
A test a week later revealed it had not been connected properly and she had to undergo another procedure to fix it.
Maidstone and Tunbridge Wells Trust said it was working with Mrs Vinall to make sure she received the best care.
'Learn from mistake'
Mrs Vinall said she was told "we all make mistakes" when she rang the cardiac catheter unit to complain about the problem.
She added: "I said 'well excuse me, this big mistake was to do with my heart'.
"I want the hospitals to learn from my mistake because I don't want this to happen [to] anybody else."
A spokesman for Maidstone and Tunbridge Wells Trust said: "We are very sorry to hear about Mrs Vinall's experience but we are working closely with her to establish the best way forward and to ensure she receives the best possible care from us in the future."