Kent council 'confident' of recovering £10m in Dexia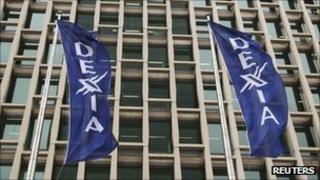 Kent County Council has said it is confident of recovering £10m invested in the troubled Belgian bank Dexia.
The council said the money, which was deposited in 2007, was underwritten with guarantees by the Belgian, French and Luxembourg governments.
Councillor John Simmonds, cabinet member for finance, said the investment was due to mature on 31 October.
Liberal Democrat councillor Tim Prater said the £10m would then be put into UK banks.
The Dexia investment was made before the Icelandic banking collapse in 2008 in which the council potentially stood to lose £50m - more than any other public body in the UK.
'Positive guarantees'
Following the Icelandic crisis the council renegotiated the terms of the Dexia investment, accepting a lower interest rate in return for the government guarantees.
Mr Simmonds said it had not been possible to withdraw the £10m from Dexia, which is to be bailed out by the French and Belgian governments.
"Once you have agreed to deposit money for a period of time the person with whom you have deposited it has the right to make you see your time out," he said.
"It seemed to us very sensible to get positive guarantees from the three governments.
"I am confident it will come back."
The council, which has a total of £300m invested, now has a policy only to put money in UK banks.
Mr Simmonds said the authority was optimistic it would get back as much as 96% of the £50m invested in Icelandic banks Heritable, Glitnir and Landsbanki.
Landsbanki administrators have said payments could begin later this year, after final legal cases in Iceland are concluded.