Work begins on Maidstone United's football stadium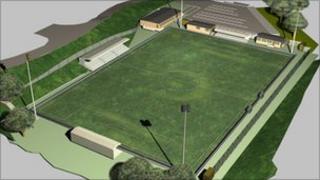 Building work has started on a new £1.6m stadium for Maidstone United FC - more than 20 years after they left their former ground.
Plans for the 3,000 capacity ground in James Whatman Way include a stand, covered terracing and clubhouse.
The cost is being met by the owners, shareholders and supporters. An application has also been submitted to the Football Stadia Improvement Fund.
The club has been sharing grounds in Dartford, Sittingbourne and Ashford.
The club hopes to play its first game in its new stadium at the start of next season
'Emotional time'
Chief executive Bill Williams said it was a "momentous era" for the club.
He said: "It's been over 20 years that we've been striving for this. It's quite an emotional time."
The club, which plays in the eighth tier of English football, hopes to move into the new ground for the start of the 2012/13 season.
Co-owner Terry Casey and his business partner Oliver Ash took over the club a year ago.
Mr Casey said: "One of the prerequisites of getting involved was to be able to build the stadium.
"There's no point taking over a football club that are playing 15 to 20 miles away from the home town.
"My kids and my grandchildren have got no recollection of Maidstone having their own football team. There's a whole wealth of new supporters that will come to the club."