Mary Portas visits Margate for review of high streets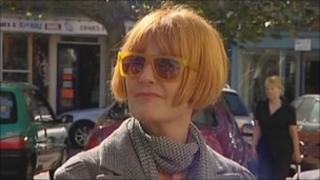 Retail guru Mary Portas has visited a Kent seaside town as part of a fact-finding mission to try to halt the decline of struggling high streets.
Television presenter Ms Portas was shown the old town of Margate, which has one of the highest proportion of empty shops in the country.
The star of BBC2's Mary Queen of Shops is reviewing England's high streets on behalf of the government.
She said she felt passionately about regenerating town centres.
She said: "I don't care about the cynics, this is something I feel very passionately and very strongly.
"Unless we start to regenerate our town centres we will have problems in our country, we will have social issues."
Ms Portas's review involves visits to several town centres, meeting shop owners and customers.
The retail expert, who also stars in Mary Portas: Secret Shopper, is due to present her findings this autumn.
Figures on shop vacancy during the first six months of 2011 show 36.1% of shops in Margate were vacant.
The town has the second highest vacancy rate of the 1,000 towns and cities surveyed by the Local Data Company.