Lydd Airport 'could take strain off Gatwick and Heathrow'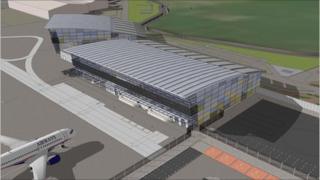 Managers of Lydd Airport in Kent have said they can become an operation big enough to save people a trip to Gatwick or Heathrow if they can expand.
Tim Maskens, the airport's operations director, was speaking as a public inquiry into the expansion plans ended.
He said developing Lydd could take strain off the national airport system.
But opponents of the scheme argued Lydd Airport was not needed and said they had made objections on the grounds of environment, safety and need.
Campaigners opposed to the expansion had wanted the public inquiry to be extended, but the hearing drew to a close on Friday.
Mr Maskens said: "The vision is that we'll become a local regional airport, serving local people, to save them the trip to places like Gatwick, Heathrow and Stansted, take a little bit of a strain off the national airport system, and provide some much-needed jobs to the local community."
Lydd Airport bosses want a new terminal building to be able to handle up to half a million passengers a year, flying to holiday destinations across Europe.
Mr Maskens said the airport needed an extended runway to take "the aircraft of choice of most of the carriers these days", which included the Boeing 737, Airbus 319 and Airbus 320.
He said the airport owners had already spent £25m on upgrading facilities and planned to spend another £25m if plans went ahead.
But Sarah Barton, from the Lydd Airport Action Group, said campaigners wanted to keep Lydd and the Romney Marsh as a rural environment.
She said: "It's located in the midst of some of the most protected habitats in Europe. It's right beside a major nuclear power station. It's right beside major military ranges.
"We don't need the airport, we already have Manston airport. There is just no case.
"So it's on environmental grounds, on safety grounds and on need grounds. That is the basic tenet of our objection."
Shepway District Council had given permission for the construction of a runway extension of almost 300m (328yds) and a new terminal, but the government ordered a public inquiry.