Dover Port sale bid to continue after deadline is met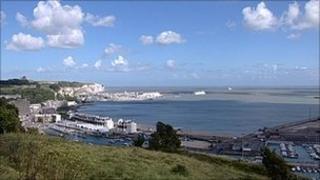 Dover Harbour Board is to submit further details to the government over its plans to sell the town's port.
The move comes after the Department of Transport last month laid out new rules for the sale of major ports.
The new criteria states the sales should deliver a "significant level of community participation".
A local group - the Dover People's Port Trust (DPPT) - wants the port to be run by a community trust to plough profits back into the community.
Residents in the town have already voted in favour of a People's Port, which has the backing of Conservative MP Charlie Elphicke.
In a statement, Dover Harbour Board said the new proposal was "wholly consistent" with the criteria set out by Mr Hammond.
Mr Hammond said he was aware the board proposed to submit a new set of documents for consideration under the new criteria.
The government's new criteria apply to sales of major ports in England and Wales, including Milford Haven in south Wales, Shoreham port in West Sussex, Poole in Dorset and Harwich Haven in Essex.