Soldier dies at Lydd Army firing range in Kent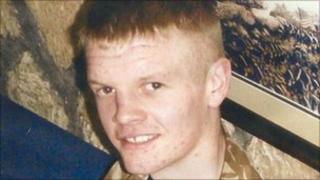 A soldier from Shropshire has died in a shooting incident at a military firing range in Kent, police have said.
Kent Police have begun an inquiry into the death, which happened at Lydd Ranges, on Romney Marsh, on Wednesday.
The MoD said the soldier, from the 1st Battalion Royal Welsh battalion based in Chester, was Fusilier Dean Griffiths, whose partner is pregnant.
His brother, Dewi, said Fusilier Griffiths was fun, loving and caring and was excited at becoming a father.
He added: "He touched the lives of so many and we will all miss our Deano. We ask that we are given time to grieve."
The battalion's commanding officer, Lt Col Stephen Webb, said: "Intelligent, fit and skilful he was an outstanding soldier with the potential for a long and very successful career in the Royal Welsh.
"He was also a thoroughly engaging person - popular and with a great sense of humour.
"He will be mourned by his many friends in the battalion, and our deepest and most sincere sympathy goes to his girlfriend and his family at this very difficult time."
'Extremely regrettable'
In 2006, another soldier died during an exercise at the firing ranges, which are on coastline south of Ashford.
In that incident, guardsman Iain Wright, who served with the 1st Battalion Grenadier Guards, died from a single bullet wound to the head.
Damian Collins, the Conservative MP for Folkestone and Hythe, said Fusilier Griffiths' death was "extremely regrettable".
He said: "There are about 300,000 training hours carried out at the Lydd firing ranges so they do have a good safety record and it's run incredibly well.
"But any accident is extremely regrettable and there should be a proper investigation as to why this has happened and if there are any similarities to any previous accidents that have taken place."
Kent Police said they were working with the Army and the Health and Safety Executive.
The firing range has been used for military training for more than 150 years.
Red flags are flown during firing, when access to the coastline and Galloway's Road is banned.