SS Richard Montgomery structural collapse 'getting closer'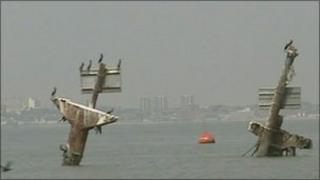 The threat of a significant structural collapse of a shipwreck full of explosives off Kent is getting more serious, the coastguard has said.
The American cargo ship SS Richard Montgomery was carrying 1,400 tonnes of explosives when it grounded and broke in two off Sheerness in 1944.
The Maritime and Coastguard Agency said a 2009 structural survey showed "accelerated deterioration".
Its report concluded that collapse was "not imminent" but "getting closer".
The agency published the document following two surveys of the wreck, which lies 1.2 miles (2km) off the coast, in 2008 and 2009.
They found that although the hull appeared to be "reasonably stable" a crack in one of the vessel's holds was "of concern".
'Tidal wave'
The section contains 2,000 cases of cluster bombs, nearly 600 500lb bombs and more than 1,000 1,000lb bombs.
The report states: "The crack at hold two is not a new development. It has been noted in surveys for many years.
"However, the 2009 survey suggests that there has been a greater increase in its size than has been noted between any previous sonar surveys."
It continued: "The 2009 survey also shows that the area of damage at hold two and hatch two appears to extend all the way across the deck and down both the port and starboard sides of the hull.
Threat to port
"This may suggest that, at some point in the future, there could be a complete loss of structural integrity in this area of the wreck, possibly leading to this section breaking into two."
Previously experts have said if the wreck exploded it would cause a metre-high tidal wave.
The vessel lies in 50ft (15m) of water off the mouth of the River Medway, with its masts visible above the surface.
In August 2004 a report in the New Scientist magazine said if the ship exploded it would be one of the biggest non-nuclear blasts ever and would devastate the port of Sheerness.
As long ago as 1970, government tests on the site suggested a blast would hurl a 1,000ft wide column of water, mud, metal and munitions almost 10,000ft into the air.