Canterbury bomb hoaxer 'probably did not act alone'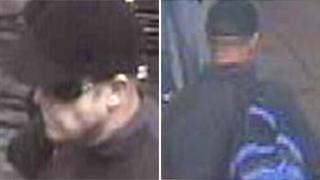 Detectives investigating two bomb hoaxes that caused a major alert in Canterbury last week believe they are looking for more than one offender.
Det Ch Supt Chris Hogben, of Kent Police, said he believed more than one person was involved after two fake devices were found in the city.
Trains were halted and parts of the city cleared while police investigated the incidents on 26 August.
Officers have returned to the city a week later in a bid to find witnesses.
Emergency services were first alerted to the scene in Old Dover Road at 16:21 BST on Friday.
'Keeping open mind'
A hoax device was found at the railway line in Old Dover Road and a second was found near a fire that started in Marks & Spencer.
Mr Hogden said: "One of the things that really concerns me is people talk about hoaxes.
"The very word hoax sounds like a sort of jolly jape but this is a serious crime and we are taking it very seriously.
"Clearly the actual planting of the device in Marks & Spencer is captured on CCTV and there's one person involved there.
"It may well be that it's the same person that's involved in planting the other device but I still believe there is more than one person involved in the commission of these offences."
Earlier this week, police released CCTV of a man they want to speak to in connection with the incident.
The images show a man carrying a blue and black rucksack, a baseball hat and cycling gear.
Mr Hogden said: "At the moment we don't know the motivation. What I can say is that we are keeping a very open mind."