Actor Timothy Spall rescued by Sheerness lifeboat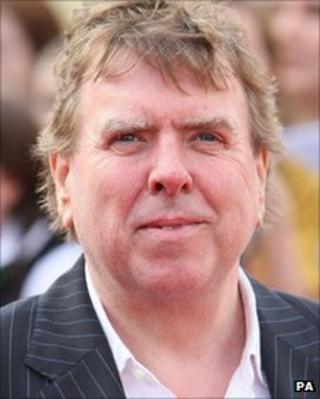 A lifeboat crew was sent out to rescue actor Timothy Spall on board his 55ft barge when he got lost on his way back to Chatham Marina in Kent.
Spall was filming for a BBC Four programme Timothy Spall: Back at Sea on Wednesday when he and four others on the Dutch barge called for help.
The RNLI said he radioed the Coastguard when the barge headed the wrong way up the River Medway towards Sheerness.
The programme's producer said Spall was exhausted after a difficult 24 hours.
The RNLI said the crew of Sheerness lifeboat were receiving training in their boathouse when they overheard discussions between the barge and the Coastguard.
The lifeboat was launched at 21:30 BST after authorisation from the RNLI launch authority.
"There is lots of mud round there and you need to know where you are otherwise you can end up aground," said crew member Andy Matthews.
"He was right to call us. Things could have got much worse. Mr Spall was very grateful for the RNLI's assistance."
The barge was located about two miles from the lifeboat station at the entrance to Stangate Creek.
Crew member Nicki Wood boarded the barge and escorted it back to safety at Queenborough Harbour, where it moored overnight.
Back at Sea producer Paul Crompton said Spall arrived at Chatham Marina on the barge on Thursday, where they would remain for two or three days.
Spall and his wife, Shane, have been sailing their Dutch barge around the British Isles for the BBC Four series.