Kent business zone 'brings resilience' as Pfizer shuts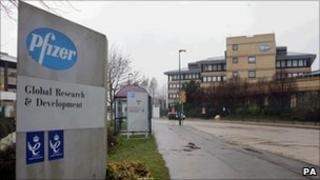 The east Kent economy could become more resilient if smaller companies start to operate from Sandwich after Pfizer closes its base there, an MP has said.
Laura Sandys said diversification instead of having one large employer could boost growth in the area.
Her comments followed a government announcement that an enterprise zone is to be created at the Sandwich site.
The zone will bring discounted rates, easier planning and access to superfast broadband for businesses there.
Ms Sandys, South Thanet Conservative MP, said: "The model has changed to much smaller pharmaceutical research entities and so as a result, it will be smaller companies.
"In a strange way, I think it's important for the east Kent economy to be diversifying away from one large employer, and I think this will actually give us more resilience, and vibrancy into the future."
'Interest from buyers'
The Kent enterprise zone was among 11 zones announced by Prime Minster David Cameron on Wednesday.
He said the sites would be "trailblazers for growth, jobs and prosperity throughout the country".
Chancellor George Osborne and Minister for Universities and Science David Willetts were in Sandwich for the Kent announcement.
"I know how difficult things have been for the workforce here and for the local community," said Mr Osborne.
"I hope we can begin to see a brighter future."
The announcement was welcomed by Kent County Council (KCC), Dover District Council and the Dover and East Kent Chamber of Commerce.
KCC leader Paul Carter said there had already been interest from two or three "very substantial" prospective purchasers of the Pfizer site, now known as Discovery Park.
David Foley, chief executive of the chamber of commerce, said he was confident a plan would be put in place to ensure advantages were spread out across the east Kent coastal business community.
He said Thanet was currently "the most depressed area in Kent" with a five-year survival rate for companies. He said he hoped that planning rules would also be eased there.