Vikings' Canterbury raid remembered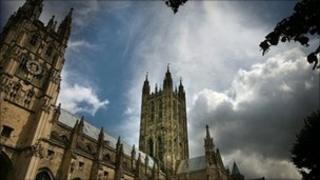 The Vikings' sacking of Canterbury almost 1,000 years ago is to be marked with a series of events in the city.
In September 1011, a Viking army laid siege to the city for three weeks until its defences were overwhelmed and the cathedral burned down.
Events planned include a weekend of family activities featuring a Viking city trail and historical re-enactments.
There will also be lectures, museum displays and cathedral services.
The city council's head of culture, Janice McGuinness, said: "It's important that we remember such a significant event in Canterbury's history and honour those that were killed trying to defend the city."
The events are being organised by the city council, the Canterbury Society, the University of Kent, Canterbury Cathedral and Canterbury Archaeological Trust.