Thanet Council calls for live exports time limit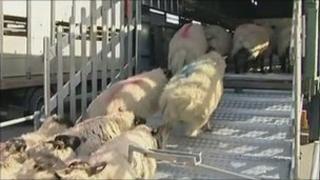 Thanet District Council is calling for restrictions on the maximum journey time for live animal shipments.
A letter to the government asks them to press the European Commission to restrict the time limit on the transport of animals to eight hours.
The letter asks the government "to take a fresh look at what constitutes appropriate treatment".
The council is taking legal advice on whether it can ban the shipments of live animals through Ramsgate.
Thanet council leader Bob Bayford said: "The council has made it clear that we do not support the export of live animals abroad and would much prefer that the Port of Ramsgate is not used for this purpose.
'Continue to push'
"As well as acting on the motion we agreed at full council, our letter to the government goes one step further.
"We've also asked Defra [Department for Environment, Food and Rural Affairs] to consider taking a firmer stance on the issue of live animal exports."
A Defra spokesperson said: "Although the UK would prefer animals to be slaughtered as close as possible to where they're produced, live export for slaughter is lawful under EU free trade rules and we cannot ban it.
"However, we will continue to push the commission to improve welfare standards, including the possibility of setting a maximum journey time or distance."