Oaken Wood quarry extension goes to public inquiry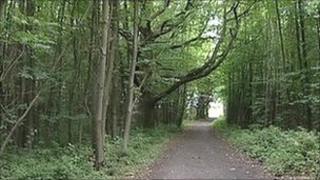 Campaigners have welcomed a decision to hold a public inquiry into plans to extend a quarry into ancient woodland.
Communities and Local Government Secretary Eric Pickles has ordered the inquiry into plans to extract ragstone from Oaken Wood near Maidstone in Kent.
Mr Pickles said the proposals, by Gallagher Aggregates, may conflict with national policy on mineral extraction.
Gallagher has said that without the extension, Hermitage Quarry will close with the loss of dozens of jobs.
The date for the inquiry has yet to be confirmed.
Planning permission to extend the quarry was approved by Kent County Council in May in what planning committee chairman Richard King said was a "difficult and finely balanced decision".
The Woodland Trust and Maidstone Green Party oppose the quarry extension, saying it would destroy 82 acres (33 hectares) of ancient woodland at Barming.
'Hasty decision'
The Green Party said the additional scrutiny would give all parties a greater opportunity to be heard.
"The call-in by Eric Pickles is very welcome," said spokesman Stuart Jeffery.
"Kent County Council made a hasty decision when they backed the plan for the quarry and it is clear that the plan needs greater scrutiny.
"While we are keen to ensure that jobs are not lost, we should remember that these jobs would see the loss of ancient woodland when there is an acknowledged lack of demand for ragstone.
"We want Gallaghers to put these jobs to use increasing their production of recycled aggregate."
Gallagher has said that without a local supply of aggregates there will be significant costs on the wider Kent community.
It said the products would need to be replaced by comparable quality aggregates which would have to be imported into Kent from elsewhere by road or rail.