Medway Council to cut 60 administration posts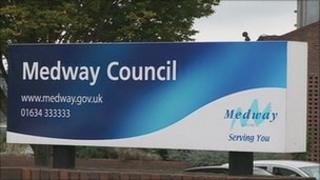 Up to 60 jobs are to be lost at Medway Council as part of plans to save £15m over the next five years.
The authority said the positions were administration roles and half of the losses, would come from not filling current vacancies.
The job cuts are part of the first phase of the council's Better For Less efficiency programme.
In February the Conservative-controlled authority cut 157 posts as part of £23m savings to its 2011-12 budget.
The authority employs about 2,900 people, excluding school staff.
'Challenging financial future'
Members of the Unison union staged a protest outside the council meeting to ratify those savings at the time, saying they feared further job cuts.
Councillor Alan Jarrett said: "Like all councils we face a challenging financial future.
"We are taking a very serious approach to this and are looking hard at ways we can improve services while saving money.
"This part of the Better for Less programme will deliver major service improvements for people in Medway and will help deliver significant efficiency savings."
The authority also said it was phasing out some of the phone lines the public can use to access services and boost its website from January 2012, as part of the efficiency programme.