Kent soldier Joseva Vatubua killed by Taliban bomb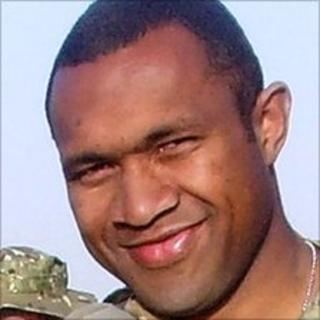 A Kent-based soldier killed in Afghanistan on New Year's Day died instantly when he was caught in an explosion, an inquest has heard.
Pte Joseva Saqanagonedau Vatubua, 24, of the Argyll and Sutherland Highlanders 5th Battalion, was killed on patrol in Helmand province.
An improvised explosive device (IED) was triggered by the Taliban, who were waiting in a mosque, an inquest heard.
The coroner recorded a verdict of unlawful killing on active service.
Pte Vatuba, who was originally from Fiji, was based at Howe Barracks in Canterbury, and deployed to Afghanistan in October.
The inquest in Trowbridge, Wiltshire, heard he was part of Operation Archer targeting known enemy firing positions north of the village of Saidabad Kalay.
Killed insurgent
The mission used ground troops to draw out the enemy while an awaiting Apache helicopter destroyed the insurgents once they were identified.
The helicopter had killed one insurgent with a missile and Pte Vatubua's patrol had moved forward to search nearby compounds for others.
Lieutenant Nigel Drapper, Pte Vatubua's platoon commander, said the bomb went off as they walked through a graveyard.
One other soldier suffered minor injuries in the explosion.
The inquest heard that it was believed the Taliban were lying in wait to trigger the device, which was controlled by a command wire.
Pte Vatubua's family, including his wife Claudette and his mother, sister and aunt, heard Coroner David Ridley record his verdict.
"I am satisfied beyond reasonable doubt that the device that killed Pte Vatubua was an insurgent device of a command wire nature, operated most likely from nearby the mosque," he said.