Pfizer's Discovery Park in enterprise zone bid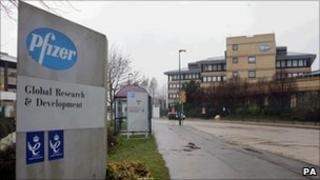 A bid to turn the Pfizer research and development facility at Sandwich into an enterprise zone is to be submitted to the government.
Kent, Essex and East Sussex Local Enterprise Partnership (LEP) said the site was its preferred choice.
If the bid is successful the Kent site will benefit from business rate discounts, simplified planning and access to superfast broadband.
In February Pfizer announced the site's closure, with the loss of 2,400 staff.
'Excellent opportunities'
Last week pharmaceuticals giant Pfizer said it would retain some operations at the site, recently renamed Discovery Park, preserving about 350 jobs.
Paul Carter, leader of Kent County Council, said: "Discovery Park offers a unique opportunity for new pharmaceutical, 'cleantech' and hi-tech research and development companies to start up and grow.
"I am delighted that the LEP Executive Board has recognised the enormous potential of Discovery Park in selecting it as the enterprise submission for Kent, Essex and East Sussex.
"I believe that the benefits to business of Enterprise Zone status and the massive hi-tech potential of Discovery Park will combine perfectly to stimulate new business start-ups and urgently-needed new business growth and employment in the area."
Councillor Paul Watkins, leader of Dover District Council, said: "These are important developments for the area.
"The granting of Enterprise Zone status would bring a major boost to businesses looking to locate in the area, and the announcement that around 350 jobs are being retained means that the site is being kept open in a way that maintains a presence and helps to attract further opportunities to the location."
Earlier this month the site was put on the market.