Kent airports alert targets organised crime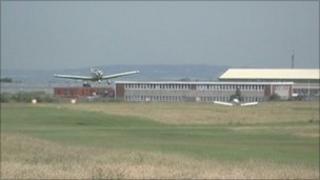 Organised crime groups using airfields and helipads to breach border controls are being targeted in an initiative launched in Kent.
Project Pegasus wants to put pilots, airport workers and the public on the alert and report any unusual activity or suspicious behaviour.
The campaign, launched at Rochester Airport, follows a similar drive which got under way in Sussex last month.
Police said Kent had 120 public and private airfields and helipads.
"It takes only 10 minutes to fly across the English Channel," said Det Chief Supt Chris Hogben.
"In addition, Kent is the gateway to both the UK and Europe so it's easy to see why we are so security conscious."
Intelligence gathering
It is two years since French pilot Eric Adrien Laou-Hep smuggled seven Vietnamese people into the UK on a light aircraft.
Laou-Hep, who was later jailed for four years, flew into Laddingford Airfield.
People smuggling is among crimes highlighted by Project Pegasus. Others are firearms smuggling, money laundering, drug smuggling and terrorist activity.
Kent Police has previously said an increase in travel during the 2012 Games will provide an opportunity for crime gangs.
"Whilst it's impossible to say what a criminal or terrorist looks like, their behaviour can give them away," said Mr Hogben.
"We want the aviation community and members of the public to be our additional eyes and ears in a bid to keep Kent safe.
"You have always got criminals and potential terrorists looking to breach our borders...and one of the ways that people can do that is by using light aircraft."
Unusual aircraft movements, breaches of aviation regulations, unusual methods of payment or activity by people or vehicles around aircraft could raise suspicions, police said.
Other suspicious activity could include unusual questions from pilots, crew or passengers and deviation from the normal use of an aircraft.