Pfizer to retain 350 staff at Sandwich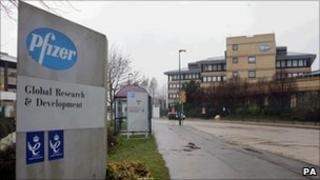 Pharmaceuticals giant Pfizer has said it will retain some operations at its research and development facility in Kent, preserving about 350 jobs.
The company announced in February that its operation in Sandwich, which employs 2,400 people, would close.
Pfizer said it will continue its phased exit of the remainder of the site, on Ramsgate Road, by 2012.
The company said it would review the retained operation within a few years as part of its business planning.
Earlier this month the site, renamed Discovery Park, was put on the market.
The company said it hoped its retained presence would attract new investors and occupants.
Site head Dr Ruth McKernan, said: "We are hopeful, that by retaining this core group at Sandwich, Pfizer will be the first of many companies to locate on the site.
"We remain focused on securing new owners and investment into Discovery Park."
David Willetts, minister of state for universities and science, said: "We are pleased with Pfizer's decision to retain part of its highly skilled work force on site.
"This decision will provide extra time for complex commercial negotiations with potential investors so that a long term future can be secured for the site at Sandwich."