Boarding school plan for at risk children in Kent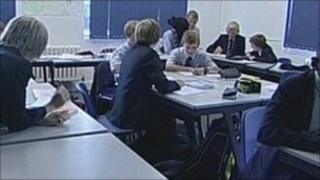 Vulnerable children in Kent could be sent to boarding school rather than placed in specialist residential care homes.
Kent County Council (KCC) said it could make significant savings by using the private education system.
The council hopes that 40% of the cost will be met by charitable foundations.
An independent report into Kent's children's services revealed that more needs to be done to protect children at risk.
Conservative-controlled KCC said it costs more than £156,000 a year to care for a child in a residential home, while sending them to a boarding school would cost up to £25,000 a year.
'Stable environment'
The children would stay as boarders during term time and return home during the holidays, but would not be forced to take part in the scheme.
Councillor Jenny Whittle, who is responsible for specialist children's services, said the idea was focused on children "on the edge of care" with the aim of getting them into "a stable environment" where they could learn and have three good meals a day, with structured bedtimes.
She said it would take them away from a "dysfunctional family environment on a permanent basis".
KCC said it hoped the structured environment would help keep at risk children out of the care system, enable them to make contact with their families, and have the opportunity to do better in education.
It is talking to a number of fee-paying and state-funded boarding schools with a view to finding places for 25 children by the start of the next school year.