Your Paintings: Noel Coward's painting of Dover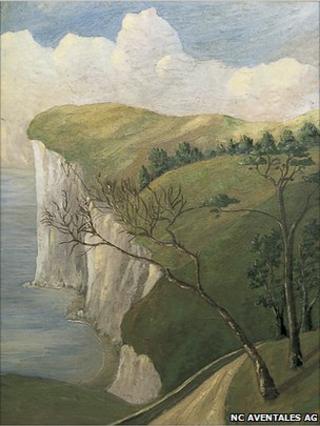 Between 1945 and 1951 Noel Coward owned White Cliffs, one of four houses on the beach at St Margaret's Bay.
The house was damaged by British and Canadian troops as they trained for D-Day and restored by Coward soon after he bought it.
It was during his time at White Cliffs that Coward discovered painting.
In 1951, as the coast became more popular with visitors, he sold the property to his friend Ian Fleming and moved inland to Aldington.
Noel Coward's painting, White Cliffs, is on display in St Margaret's visitors centre.
Your Paintings
The UK has an outstanding national art collection of 200,000 oil paintings, held in a vast range of public institutions.
There are masterpieces in major galleries, hidden gems in local museums and town halls, and even art in fire stations, hospitals and schools.
And though they are owned by UK publicly-funded organisations, 80% of the paintings are not on display. They are either hidden away in storage, or are in buildings that the public cannot access.
The BBC's Your Paintings, in partnership with the Public Catalogue Foundation, will bring together all these artworks, with the stories behind them.