Dover Harbour Board holds meeting over port plans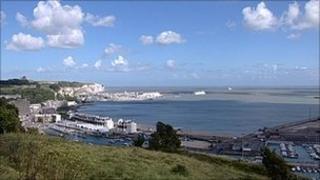 Plans to privatise Dover port and set up a community trust have been discussed at a public meeting.
Dover Harbour Board, which has run Dover as a trust since 1606, sought permission from the government to privatise it last year.
The board held a meeting in the Kent town to seek views on how a community trust would be run.
Residents in the town have already voted in favour of a rival "People's Port" bid by Dover People's Port Trust.
Last month, the harbour board said a new operating company established under its privatisation plans would give £10m to a Port of Dover Community Trust, followed by £1m a year for five years.
It also said independent consultants had calculated the potential benefit to the town would be £95m in the first five years and £60m a year thereafter.
Organisers of the rival People's Port bid said £50m would be invested into regenerating the town.
Chairman of the Dover People's Port Trust Neil Wiggins also said the wider economic benefits of their bid could reach £330m over five years.
The government announced in May that ports should only be sold if new owners brought "significant community participation".