London businessman to be extradited over arms charges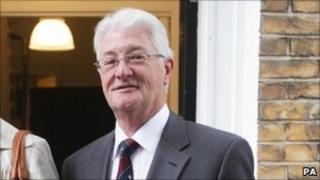 The Home Office has refused to intervene to prevent a retired businessman from being extradited to the United States.
Christopher Tappin, 64, of Orpington, on the Kent/south London border, is accused of conspiring to sell parts for Iranian missiles.
Mr Tappin said he believed he was exporting batteries for the car industry in the Netherlands.
If convicted, he faces 35 years in prison.
The Home Office has said it will not refuse Mr Tappin's extradition on human rights grounds and has sent him a copy of the extradition order.
Mr Tappin said: "I don't seem to have any way of being able to prove my innocence. I can prove my innocence - I am adamant about that - I'm just very disappointed that the system at the moment is not protecting me and not allowing me to do so.
"I'd love to go to America to be able to prove it but I've been advised by my US lawyers in particular that I'd be very unlikely to get a fair trial over there, or a trial at all."
Mr Tappin, president of the Kent County Golf Union, is accused of conspiring to export defence articles without licence or approval and aiding and abetting the attempted export of defence articles without the required licence.
He is also accused of intentionally and unlawfully attempting to conduct financial transactions from the outside to a place inside the US, with the intent to promote the carrying on of a specified unlawful activity.
In February, district judge John Zani ruled at City of Westminster Magistrates' Court that the extradition could go ahead and released him on conditional bail.