Visitors attend Margate Big Event and airshow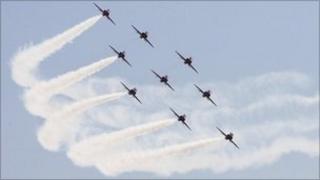 Thousands of people braved the changeable weather to watch the airshow and take part in a whole host of activities at Margate's Big Event.
Visitors to the town on Saturday were treated to displays from the Battle of Britain Memorial Flight and the last flying Vulcan bomber.
The event, which includes bands and DJs, has been moved to the seafront in a bid to attract more visitors.
A harbour fireworks display was also being held.
On Saturday scores of people took part in a whole host of sports challenges on the beach, including rock climbing, learning how to surf and taking part in a skipping contest.
Ahead of the event Thanet District councillor Martin Wise said: "This year's Big Event is absolutely packed with things for the whole family to do throughout the weekend.
"We've got an amazing line-up of action in the Airfix Air Show on both days, from the ever popular Red Arrows to the rare Vulcan bomber, supplemented by a superb selection of activities on the ground."