Fort Halstead's Dstl research laboratory to close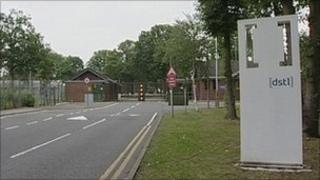 A military research centre in Kent that employs 840 people is to close following a review.
The Defence Science and Technology Laboratory (Dstl) said it had reviewed operations at its Fort Halstead site near Sevenoaks.
Dstl, which is part of the Ministry of Defence (MoD), said staff would be relocated elsewhere.
It said staff would be moved to Portsdown West near Portsmouth and Porton Down near Salisbury.
QinetiQ, a defence technology company, will remain at the Fort Halstead site.
'National defence'
Fort Halstead is one of the largest employers in the Sevenoaks district. Staff carry out research and forensic science analysis into explosives.
During the 1970s and 1980s, staff at Fort Halstead studied the bomb-making capabilities of Northern Ireland's paramilitary organisations.
Since then, scientists have responded to new threats, including those posed by al-Qaeda.
Researchers there worked out how terrorists created their bombs for the 2005 London transport network attacks.
Dstl said it was seeking greater efficiencies by consolidating its operations on two sites.
All jobs would be available if employees decided to relocate, it said.
South East MEP Nigel Farage said the loss of the jobs would have a "disastrous effect on the Kent economy".
Michael Fallon, the Conservative MP for Sevenoaks, said: "It's extremely disappointing news.
"Even though the losses are being phased, it's a large number of very highly skilled jobs, which we can sorely afford to lose here."
Dstl is an executive agency of the Ministry of Defence and is the largest scientific organisation within government, employing more than 3,500 people.
About 170 jobs will be relocated to Portsdown West and about 670 to Porton Down.
The relocation programme is expected to take about five years.
In a statement, Dstl said: "By bringing together facilities and capabilities, the programme will result in more robust and resilient scientific support to national defence and security and will offer better value to the taxpayer."
In February, drugs giant Pfizer announced it was closing its Sandwich site in east Kent, which employs 2,400 people.