Call for inquiry over Oaken Wood ragstone quarry plan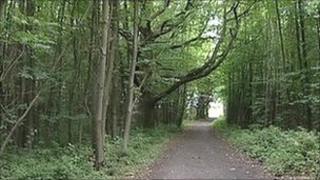 Campaigners have called for a public inquiry into plans to extend a quarry into ancient woodland near Maidstone.
The Woodland Trust is asking the Community and Local Government Secretary Eric Pickles to start an inquiry into plans at Oaken Wood.
The trust said the development would destroy at least 82 acres (33 hectares) of ancient woodland at Barming.
Gallagher Aggregates has previously said the quarry is one of few sites in the county where ragstone can be found.
Nikki Williams, from the Woodland Trust, said: "Earlier this year Caroline Spelman [Environment Secretary] promised to strengthen protection for ancient woodland, so this government cannot afford to be seen to be contradicting itself."
'Finely balanced'
Ms Williams said that mitigation measures such as new planting or transferring soils to a new site would not recreate the ancient woodland and conditions for wildlife that had grown up over hundreds of years.
Planning permission to extend the quarry was approved by Kent county councillors in May.
Speaking in May, planning committee chairman Richard King said councillors had made a "difficult and finely balanced decision".
The council said the plans had to be referred to the government because Oaken Wood was currently not included in the council's local plan for mineral extraction.
Stone quarrying company Gallagher Aggregates wants to dig Kentish ragstone from the wood at Barming.