Pfizer site in Sandwich on market as 'Discovery Park'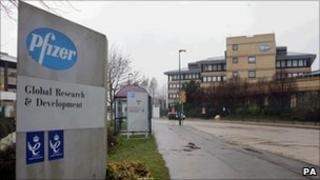 Pfizer's Kent base has been put on the market after the pharmaceutical company announced in February that the site which employs 2,400 people would close.
The site, which has buildings housing laboratories and production facilities, has been renamed "Discovery Park".
John Westwood, from Pfizer, said the name reflected the company's hope the site would still be used for research.
The sales brochure also states some of the land in Sandwich could be used for leisure, retail or housing.
'Research hopes'
Laura Sandys South Thanet Conservative MP said: "What we really want is a much more diversified group of companies on the site doing top-end research, science and technology."
Mr Westwood, real estate director, said: "The name Discovery Park reflects our hope that the site will continue, in part at least, to be a centre for research and development.
"We anticipate that this campaign will help attract users to the site, and secure its future."
Nick Compton, senior director at CBRE, the company marketing the site, said it was expected that the site would attract interest from a range of industries as well as the investment and development sectors.
A task force of politicians has been set up to support new business and employment on the Pfizer site and to improve the transport connections in the area.
Pfizer is in talks with contract research organisations in a bid to save some positions and is arranging careers fairs, a business opportunities day, and out-placement services for its employees.
Jobcentre Plus is also on the site providing a rapid response service for workers.