Herne Bay care home closed amid 'abuse concerns'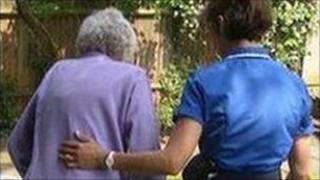 A Kent care home has been closed down and its eight residents moved out after its registration was cancelled.
The Care Quality Commission (CQC) said the registration of Sea View Lodge in Herne Bay was cancelled on Wednesday after concerns of neglect and abuse.
The home, for elderly people and those with learning disabilities, had residents aged between 25 and 80.
Owner Shahid Sheikh said he denied any allegations and the matter was being handled by his solicitor and barrister.
He said residents were in tears as they were moved out of the home and that he and his family had been left with no income.
Kent County Council (KCC) said on its website that it suspended new placements to Sea View Lodge on 27 May because of poor practise.
'Safety and welfare'
Five of the residents have been placed in respite care and three in nursing homes.
The CQC said it made an urgent application to Canterbury magistrates on Wednesday to cancel the home's registration.
"We acted quickly to protect the safety and welfare of people at Sea View Lodge," it said in a statement.
"Closing a care home is not a decision taken lightly. In some cases, moving frail and vulnerable people can cause more harm than good.
"However, it became clear that the only way to properly protect residents at Sea View Lodge was to close the home immediately, and move residents to other locations where care is of a better standard."
The CQC last inspected Sea View Lodge on 8 June 2010 and gave it a two-star "good service" rating.