Retracing the Great Escape pilot's last 'flight'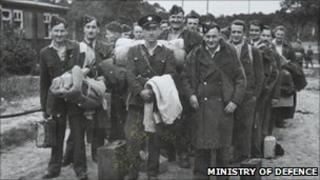 The last journey of the man whose exploits inspired the film The Great Escape is to be retraced by a team from Kent.
The character of Sqn Ldr Roger Bartlett, played by Richard Attenborough in the film, was based on Sqn Ldr Roger Bushell who had flown across the English Channel on 23 May 1940 to assist with the evacuation of Dunkirk.
After shooting down two Messerschmitt Bf 110s, he was in turn shot down and landed on a beach in France.
He was taken prisoner by the Luftwaffe and after various escape attempts was sent to the Nazi prisoner of war camp, Stalag Luft III near the town of Sagan - which is now part of modern-day Poland, known as Zagan.
Murdered by Gestapo
He became known as Big X and was one of the masterminds of the escape which took place on 24 March 1944 through the longest of the three tunnels, nicknamed Harry.
Despite the plan to get most of the camp's captives out, 76 military personnel managed to escape from the camp.
Sqn Ldr Bushell and Bernard Scheidhauer were among the first to leave the tunnel and boarded a train at Sagan railway station.
They were caught the next day at Saarbrücken railway station on the Germany/France border while waiting for train to Alsace in France.
Bushell and Scheidhauer were murdered three days later by members of the Gestapo. The perpetrators of this war crime were later tried and executed by the Allies.
Of the 76 escapees, 50 were killed, on the direct orders of Adolf Hitler.
Bushell is buried at the Poznan Old Garrison Cemetery.
Colditz Castle
A team of seven motorcycle riders set off from Biggin Hill at 0800 BST riding Triumph Bonnevilles, one of which is a replica of the bike used by Steve McQueen in the film, The Great Escape.
They will retrace Bushell's final journey from Kent to the prisoner of war camp in Poland.
The route takes them to the beaches at Dunkirk, then through Belgium and over Arnhem Bridge ("A Bridge Too Far") before going through Germany and onto the Stalag Luft III camp in Poland.
The group will stay at the camp for three nights and visit nearby railway tracks and stations used by the escapees.
The route back home will include a night at Colditz Castle and then a visit to Hitler's Berghof in Obersalzburg where the order was signed to execute 50 of the escapees.
One of the replica motorbikes has the number plate WWII POW, thanks to the new 11 registration numbers introduced in March.
The team aims to raise £10,000, including proceeds from the auction of the "Steve McQueen" bike, to be divided between Help for Heroes and The Royal British Legion.