Dover board pledges £15m for community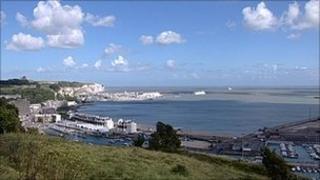 The operator of the port of Dover has pledged £15m for the people of the town if it is allowed to go ahead with plans for privatisation.
Dover Harbour Board (DHB) said a new operating company would give £10m to a Port of Dover Community Trust (PDCT), followed by £1m a year for five years.
It comes two weeks after the government said there should be a "significant community participation".
Dover MP Charlie Elphicke said there was nothing new in the announcement.
DHB, which has run Dover as a trust since 1606, asked the government for permission to privatise it last year.
Two weeks ago transport secretary Philip Hammond put the application on hold until 27 June while a consultation is carried out on the sale of trust ports such as Dover.
Mr Hammond said a new list of criteria would include community involvement and the ability to influence the port's long-term development.
On Tuesday DHB said independent consultants Arup had calculated the total potential benefit of the PDCT to the town at £95m in the first five years and £60m-a-year thereafter.
Its cash contribution would enable the community to become true partners and share in the prosperity of the port.
It added that all port employees would be able to own shares in the new company.
And it said it wanted to work with the community to find out what they want PDCT to do for the town.
Rival bid
"Privatisation will allow us to make the contribution to the community that we have always wanted to make but have never been able to make," said chief executive Bob Goldfield.
"This is a once-in-a-lifetime opportunity to actually do that."
Residents have already voted in favour of a rival "People's Port" bid by Dover People's Port Trust (DPPT).
They have been told they can become members of DPPT for £10, with the rest of the £200m bid coming from the City of London.
Conservative Mr Elphicke said the People's Port plan earmarked £50m for regeneration of the town.
"What people really want is community involvement - that is ownership and long-term involvement in the running of the port," he said.