MP Tracey Crouch had £15k credit and store card debts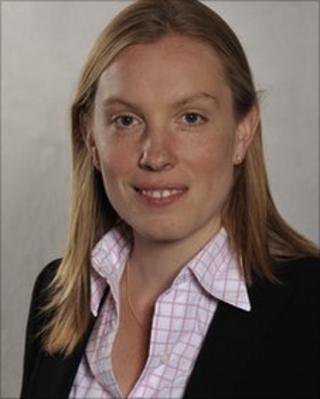 A Kent MP has revealed she built up £15,000 debt on store and credit cards in a rash of "youthful stupidity" after she left university.
Tracey Crouch, 35, Conservative MP for Chatham and Aylesford, said she had cried as her bank manager cut up her cards and put her on a repayment plan.
Her experience prompted her to discuss tighter credit controls with Consumer Minister Ed Davey.
Government proposals on changes to the industry are to be published this year.
Ms Crouch said her credit problems had begun when she was living and working in London.
"As far as I was aware I had hit the big time and I just lived beyond my means," she told the BBC.
"I was living with somebody who worked in the City and he and his friends were going out and having dinner which was costing more than my monthly wage.
"I just wanted to be part of it so I racked up a huge amount of debt in not very much time at all."
She said it had been a good thing her bank manager had taken firm action but the repayment plan had taken a "long time" to clear.
'Most vulnerable'
"Luckily for me at that time there weren't all the debt management companies or credit lenders so I was limited to credit cards and store cards.
"Now we are talking about the most vulnerable people who rack up a huge amount of debt and then don't know how to pay it off."
She met Mr Davey with Conservative MP for Rochester and Strood Mark Reckless, who is also backing a call for tighter credit controls.
The Treasury and Department for Business are looking at how people can better manage borrowing, and improve the help available for those who get into difficulty.
A cap on interest rates is being considered as part of a review of consumer borrowing.
Mr Davey has said he wants to encourage customers and lenders to take responsible decisions and to strengthen protection where necessary, particularly for the most vulnerable.