Maidstone to St Pancras high-speed rail service begins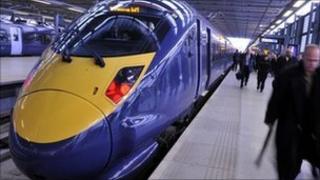 A high-speed trial train service linking Maidstone West and London's St Pancras International has started.
The three trains from Maidstone in the morning, and three returns in the evening, also stop at Strood, Gravesend and Stratford International.
Passengers will still be able to travel twice an hour from Maidstone West to St Pancras changing at Strood.
A weekly season ticket on the high-speed service is £110.60, compared with £89.70 for the mainline service.
The high-speed train's journey time is 47 minutes for the direct service and 67 minutes for passengers changing at Strood.
A South Eastern Trains spokesman said: "It is a trial with the full intention of introducing the service fully in December. Provided people use the service, it will be introduced."
The City
Some rail services were axed when the high-speed trains were introduced in Kent in December, including the Maidstone East via London Bridge to Cannon Street and Charing Cross services.
John Taylor, the director of the Chamber of Commerce, said he had his doubts about the service.
He said: "I am sceptical about running a service solely into St Pancras, I would much rather see the business running directly into the City.
"The question is whether a service into the City is going to be, in the future, the real service that is going to attract businesses into Maidstone," he said.
'Makes sense'
The three departures from Maidstone West in the morning are at 0656, 0726 and 0756. The return journeys leave St Pancras International at 1714, 1744 and 1814.
There is also one service in the morning leaving St Pancras International at 0625 to Maidstone West, and there is a service leaving at 1913 from Maidstone West to St Pancras International.
Vince Lukas, the service delivery director at South Eastern Trains said: "The original [high-speed] specification didn't include Maidstone at all and it was in consultation with Kent County Council and others in the county, that, with a year's experience, it would be really good to extend the services to Maidstone."
"It [the trial] is about passenger numbers, it is also about the operation of the service and whether it makes sense. I live just outside Maidstone myself and I'm pretty confident this will work."