Garry Mann returns to UK to finish prison sentence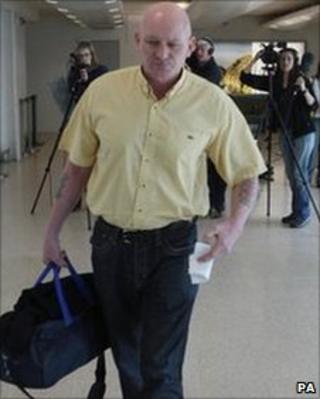 An England football fan jailed in Portugal for his role in a riot during Euro 2004 is back in the UK.
Former firefighter Garry Mann, from Kent, has spent the past year in a Portuguese jail after being extradited in May 2010 to serve a two-year term.
The 53-year-old Birmingham City fan will serve the rest of his sentence in the UK following a prison transfer.
He denies being involved in the fight and claims he did not receive a fair trial in Albufeira.
Jago Russell, chief executive of Fair Trials International, said: "We are relieved that Garry will now be able to serve the remainder of his sentence back in the UK closer to his family, but this falls far short of justice.
"We will continue to campaign for reform of the extradition laws that have put him and his family through hell."
Mann, from Faversham, was drinking with friends in a bar in Albufeira when a riot involving football fans began in a nearby street.
The father of six was arrested, tried and convicted within 48 hours.
His legal team said he was only granted five minutes with a lawyer before his trial, could not understand the proceedings and did not know what charge he faced until after he was convicted.
Judges and police officers have expressed concerns that he did not get a fair hearing.