Campaign calls for more youngsters to get Kent bus pass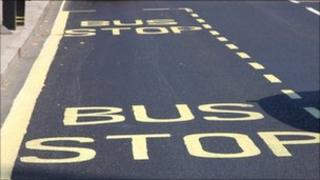 Thousands of people have joined a campaign to extend a subsidised bus pass scheme to more Kent teenagers.
So far there are more than 6,000 signatures on the petition calling for the Kent Freedom Pass to go to anyone in full-time education aged up to 20.
The current scheme, which offers free bus travel in return for a £50 annual fee, applies to 11 to 16-year-olds.
Kent County Council said it already spent £30m each year on all subsidised and concessionary bus travel.
Councillors will have to debate the proposal if the campaign gains more than 12,000 signatures.
They have already confirmed plans to raise the annual charge to £100 from this September.
Debbie Bugden, from Ashford, said she was concerned how much it would cost her when her 16-year-old daughter Alice turns 17.
"The rules should apply all the time they are in full-time education," she said.
"Even if they made it a little bit more expensive I would still buy it because it's cheaper than paying for each trip.
"Otherwise, it's cheaper to take her in the car, but that's pointless because you don't want all these cars on the road."
'Wide-strung county'
Martin Vye, deputy leader of the Liberal Democrats on the council, said he wanted to extend the scheme to 18-year-olds using the £5m earmarked for community funds in next year's budget.
He said: "It's pointless cutting off the eligibility at 16.
"For so many people who are in education or who wish to become volunteers they are going to find it difficult in this wide-strung county to get to where they need to go."
A council spokesman said the authority wanted to maintain the bus network where possible, but that it was already spending millions of pounds on concessionary schemes and rural routes which are not commercially viable.
Sophie Allan, a bus campaigner with the Campaign for Better Transport, said the council should make the "bold move" of investing more for long-term gain.