'Community is key' to Dover port sale, says government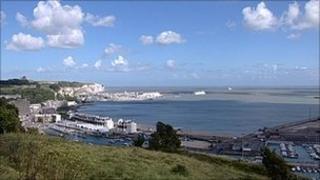 Ports like Dover should only be sold if their new owners bring "a significant level of community participation", the government has said.
The announcement by Transport Secretary Philip Hammond comes in a new list of criteria for the sale of major trust ports, now due for consultation.
It has been welcomed by Dover People's Port Trust (DPPT), which opposes plans to privatise the port.
Current owners Dover Harbour Board say their proposals fit the criteria.
Mr Hammond said community participation "must include the ability to influence the port's long-term development and may include the right to receive a share in the profits of the port, or the future increase in its value".
However, it did not require a community role in the port's operation, he added.
Price factor
Half the proceeds of any port sale would go to the Treasury, but DPPT chairman Neil Wiggins believes the announcement shows price is not the main consideration.
"Whilst what goes to the government is a factor, a far higher priority is one of community engagement," he said.
"We've put down a marker of £200m, but even if someone else bid £1bn they wouldn't get it approved if it didn't fit the criteria."
Employee participation in the port's ownership, such as the right to equity shares, should also feature in the details of any proposed sale, Mr Hammond added.
Dover Harbour Board's application to privatise the port has been put on hold during the consultation period, which lasts until 27 June.
In a statement, it said: "We are entirely comfortable that our voluntary privatisation scheme, as already submitted to the Department for Transport, is very community focused.
"Our proposed Port of Dover Community Trust would enable proceeds to be used to fund regeneration in and around Dover alongside the necessary private investment to fund ongoing development of the port in the local and national interest."
The proposed criteria also applies to ports in Tyne; Milford Haven; Shoreham, in West Sussex; Poole, in Dorset; and Harwich Haven, in Essex.