Doctor Who fan in tardis replica plan for Herne Bay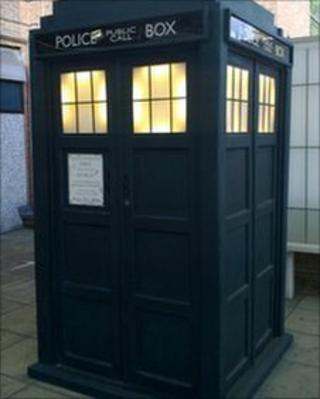 A Doctor Who fan is seeking approval for a full-size replica of the tardis to be installed on a Kent seafront.
Local prop-maker Jason Onion said it had been his vision for Herne Bay for 32 years, since he was aged three.
He said it would be in recognition of BBC scriptwriter Anthony Coburn, who lived in the resort and conceived the idea of a police box as a time machine.
Mr Onion said a 9ft (2.7m) blue box would be a good excuse to get "coach-loads of people down to Herne Bay".
"I feel that there's a lot going for Herne Bay - there's a lot of rich heritage for this town," he said.
The first four episodes of Doctor Who were written by Mr Coburn in 1963.
'Best programme'
Mr Onion said he was planning other things for the town over the next couple of years in the lead-up to the 50th anniversary of Doctor Who.
"I'm donating a full size replica of the 1963 version of the tardis to Children in Need and also to Herne Bay library, so it's all going to be linked up together.
"When fans think of Doctor Who, they are going to think of Herne Bay too.
"It's the best programme in the world ever. It encompasses everything, and it draws everybody in," he said.
Mr Onion said he would be talking to council officials about his plans over the next couple of weeks.