Kent's "outstanding" nursery for the visually impaired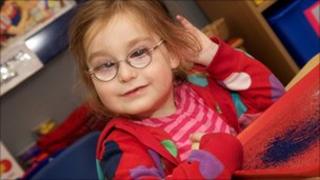 Dorton House Nursery in Kent is very proud of its latest Ofsted report which has rated it as "outstanding" for the third time running.
The staff at the nursery in Seal, near Sevenoaks, work with children aged two to five, all of whom are blind or partially sighted.
"The nursery fully meets the need of its children, including those with complex needs," said the report.
One parent said her child had made "remarkable progress" in just one term.
The Royal London Society for the Blind's nursery was purpose built, with high contrasting floors, walls and doors to help children who have some vision.
The walls have smooth running boards, so children with no sight can find their way around by touch.
Nursery manager Maggie Bindon said: "At a very young age, vision pathways in the brain can be strengthened and it can make an enormous difference to the outcome. Early intervention is vital."
Glowing stick
A family brought their three-month old girl who showed no reaction to light. The staff took her into the nursery's specialist dark room to work on her vision.
After six months of 10-minute sessions, she was able to follow a glowing stick, and reach out and touch it, the nursery said.
Each day includes structured activities, geared to each child's needs.
Braille is taught from an early age, and the nursery uses different methods to allow children with and without sight to work with language and communication.
A series of cards represents each day of the week with wording and Braille, while an "object of reference" gives an association each week, such as bells for Monday.
The nursery said children soon learn the sequence of the days of the week.
In cooking lessons, children learn that flour comes in bags, butter in plastic tubs, and the shapes of other objects around them.
Vibrating floor
Many children use the multi-sensory room which contains bubble tubes, fibre optic lights, and moving lights which often produce a reaction from children who have not responded to static lights.
There are different textures on the wall and a vibrating floor can often help those with conditions such as cerebral palsy who require stronger stimulation.
The nursery's aim is to enable the children to be as independent as possible.
By being able to switch on the bubble lights themselves, which they can then hear, the children first learn that they can affect the world around them.
In one of the playrooms, the wooden floors and high ceiling create an echo. Children use reflected sounds to sense their location in the room, find doors and even make their way across an empty space.
The rest of the Dorton House campus is explored with partially-sighted and blind children in mind.
Children play in the autumn leaves and learn how it feels to walk up and down slopes, on different surfaces and pathways.
"It's really crucial to get to the point where the child is confident to explore," Ms Bindon said.