Pfizer sets aside $772m for drug illness claims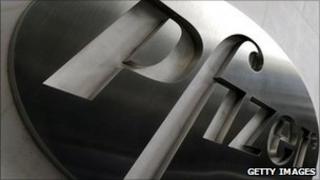 The drugs giant Pfizer has put aside $772m (£476m) to resolve claims its hormone replacement drugs cause serious illness.
Pfizer, which is the world's largest drugmaker, said the money provides "the minimum expected costs to resolve all of the other outstanding" lawsuits over the drugs.
The company did not say how many cases would be settled.
Pfizer has already settled a third of claims relating to the drugs.
At the height of the litigation, the company faced more than 10,000 claims.
Much of the claims were inherited along with Pfizer's 2009 takeover of Wyeth, which makes the menopause treatment drug Prempro.
In 2002 a study linked the drug with breast cancer.
More than six million women took Prempro and related menopause drugs to treat symptoms including hot flushes and mood swings.
Wyeth has won dismissals of more than 3,000 cases before they came to be tried.